Greetings from the President
Greetings and welcome to Chi Delta Omega chapter's website. It's a space where you can learn more about our chapter: who we are, what we do within our community, and how we strive to fulfill our calling to serve all mankind.
Located on the east coast of Florida between St. Augustine and Daytona, our chapter draws its membership from many communities in the area and beyond. Chartered in July of 2002, we pride ourselves in the significant role we have played in presenting quality programs of service to the residents of Flagler and Putnam counties. We are also especially proud of our continuing local programs of service through which we mentor our youth and award scholarships to graduating seniors in the high schools.
We are honored by your visit; therefore, we have made every effort to make your time with us informative and pleasurable. If you are a member of Alpha Kappa Alpha Sorority, Inc. and are not affiliated with a chapter, we invite you to contact us, visit our meetings, join us in service to our communities. We believe you will find Chi Delta Omega warmly welcoming and consistently committed to Sisterhood and Service, as we continue to Grow Together and Grow Stronger.
Intentionally Sisterly,
Hazel Lockett
President, 2018 – 2022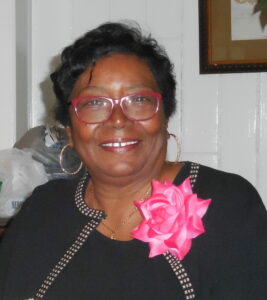 President of Chi Delta Omega

Email

Chapter Members Log In
We welcome donations, sponsorships, and partnerships. Learn more about our non-profit organization to benefit educational and cultural purposes by clicking here.